The Changing Geography of Finance and Regulation in Europe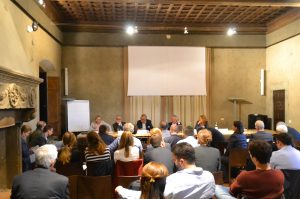 What are the implications of the the profound technological changes which are taking place in the world of finance? How will these changes affect the geography of finance? What will be the challenges for regulators facing the rise of FinTech, Bitcoin and RegTech? What will be the effects of the United Kingdom leaving the European Union on the continent's economic landscape, and more broadly on the world?
These were just a few of the various questions assessed during the conference The Changing Geography of Finance and Regulation in Europe, which took place on 27 April.
As part of the Annual Conference series of the Florence School of Banking and Finance, the conference was hosted by the European University Institute and was co-organised by the FBF, EUI, BAFFI CAREFIN Bocconi University, and the Brevan Howard Centre at the Imperial College.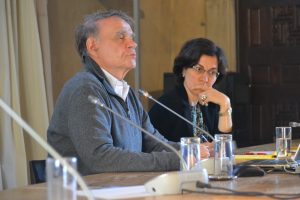 The scientific content of the debate was shaped by a committee of leading scholars in the field of financial regulation, namely Franklin Allen, Brevan Howard Centre Imperial College; Elena Carletti, BAFFI CAREFIN Bocconi University and EUI; Joanna Gray, Birmingham University; and Mitu Gulati, Duke University.
After the greetings to the participants delivered by Elena Carletti in front of a packed room, the conference opened with a discussion on the new technologies, exposing the opportunities offered by FinTech and the challenges for regulator in this aspect. The speakers represented the views from academic institutions, think tanks, law firms and private companies, elaborating their points in a lively questions and answers session. Immediately afterwards, the morning session was concluded by a keynote speech by Jean-Pierre Landau.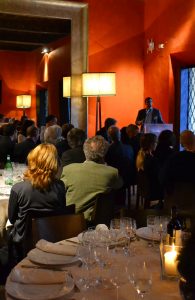 The afternoon session featured a discussion of how the changes in the financial sector may affect the rise of regulatory arbitrage across jurisdictions and what would be the consequences for national regulators, private banks and law firms. The topic of Brexit was inevitably brought in the discussion, leading the conference naturally to the third session, which presented as a case-study the shifts in political and economic geograpgy of Europe which may follow the UK's parting from the European Union.
As a conclusion of an intense conference day, Martin Sandbu delivered a dinner speech which contextualized the discussion which took place during the day in a historical perspective.
Following a tradition established in the past editions of the annual conference, the proceedings of the conference will be published in an e-book, also available in limited printed versions offered free-of-charge during our events, which will be published in late spring.