Next content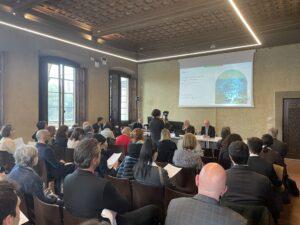 On 23 and 24 March 2023, the Florence School of Banking and Finance (FBF) held its annual conference at the European University Institute (EUI) premises in Florence, Italy. Organised in cooperation with Banca d'Italia,...
In the context of the Bank Resolution Academy the Florence School of Banking and Finance organised a tailored live class for a group of participants  of the South African Reserve Bank to discuss resolution in the African scenario.
In the online live class the course faculty exchanged views with Jacques Botes, Divisional Head, Resolution Planning, Financial Stability Department and Alicia Potgieter from the Corporation for Deposit Insurance (CoDI) Policy Division on the forthcoming South African bank resolution and deposit insurance frameworks and the future roles of CoDI, and of the SARB as the national bank resolution authority.
While the European Union has put in place a new bank resolution framework (BRRD) and the institutional structure of the Single Resolution Mechanism (SRM) a few years ago, reforms to both are currently under discussion. On the other hand, South African authorities have studied carefully experiences across the globe to set up their new framework and have worked to make it consistent with the FSB Key Attributes of Effective Bank Resolution.
It has been a fascinating opportunity to understand the common features (such as the preparation of resolution plans by the bank resolution authorities) between the forthcoming regime and the one already applicable in the European Union, but also the points where frameworks will diverge (like the absence of a Single Resolution Fund in South Africa). The School looks forward to reading about the future regulatory developments in South Africa to deepen our exchanges about this extremely relevant topic.