Autumn School on Banking Resolution – Last course of 2018
The Florence School of Banking and Finance's training activities for 2018 were closed last week by a final, fully booked residential course on 'The Law, Economics and Practice of EU Banking Resolution'.
This course, structured around three full days of teaching activities, was designed with the aim to foster a deeper and up-to-date understanding of the new banking resolution rules among public authorities, practitioners and academics. In addition to presenting the core elements of the current infrastructure, which is based on the European Bank Recovery and Resolution Directive (BRRD) and on the institutional counterpart for the Banking Union, the Single Resolution Mechanism, the course promoted an understanding of the merits and challenges in the implementation of the new EU resolution framework.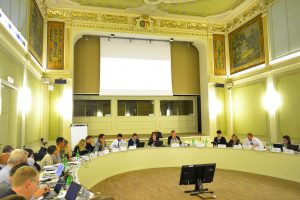 The course was opened by course directors Bart Joosen (VU University Amsterdam) and Stefano Cappiello (FBF), who provided an overview of the current framework, the objectives for banking resolution, and the four resolution tools, namely: sale of business, bridge institution, asset separation, and bail-in. The course then continued with a session led by Ralf Bock (European Central Bank) on the assessment of recovery planning and the tools necessary to that end, followed by a session specific on capital regulation, which introduced the concepts of MREL, buffers, loss absorption principles, and the necessary regulation.
On the second day, Andrea Federico (Oliver Wyman) presented the concept of valuation in resolution, which was followed by a practical session led by Oliver Wünsch, in which participants were engaged via a scenario simulation on a fictional case-study. The course then continued with Tobias Tröger (Goethe University, Frankfurt) who discussed resolution planning in the light of internal financing.
On the final day, participants were led in a second group activity, which required them to work on a simulation on MREL, in which they were asked to apply what they learned on the case of a hypothetical failing bank, from the resolution planning and the early intervention phase to the three possible options available to public authorities. Following sessions featured the topic of funding in resolution and the relationship between resolution and state aid, with instructor Seraina Gruenewald (University of Zürich), and a final interactive session on the resolution process in practice, pre- and post- BRRD cases, led by course co-director Stefano Cappiello.
Thank you for a wonderful truly remarkable course. The material was perfect and overall this was a great opportunity to learn and meet other people.
Participant in the Autumn School 'The Law, Economics and Practice of EU Banking Resolution', November 2018